Web, Desktop, Mobile with the same code?


We got you covered with Four Js Genero

A versatile application for mission-critical business applications.
Four Js Genero is an independent-platform application for the creation of data-intensive business solutions. Its unparalleled versatility adapts to a user's environment with little to no effort. Genero applications run indifferently on desktops, webtops, and can be quickly adapted for mobile devices. Applications developed with Genero are robust, scale to thousands of users, are secure, and are tightly integrated within existing IT landscapes and Service Oriented Architectures (SOAs).
Genero applications are developed ina fraction of the time compared to rival frameworks. Genero applications significantly improve developer productivity, predictability of project timeframes, budgets, and proposes cost-efficient lifecycle processes.

A language tailor-made for business and the Cloud

At the heart of Genero lies Business Development Language (BDL) purpose-built for transactional database applications. Its simple, no-nonsense grammar reduces developer errors and code length by an order of magnitude. Code is easy-to-read and maintain. Its SQL compliant syntax provides seamless access to the computer industry's leading databases. It comprises an XML based Abstract User Interface (AUI), which maintains separation of business from presentation layers – an important design consideration for cross-platform support. This high-level of abstraction enables a single code stream to support the majority of today's servers, workstations and mobile devices from a single binary image. Genero's server-centric, thin-client, n-tier architecture is ideal for the Cloud and scales to thousands of users. Genero executes business logic on the server, which is protected behind the firewall. Data is transferred to the user agent efficiently, minimizing graphical transfers and network roundtrips.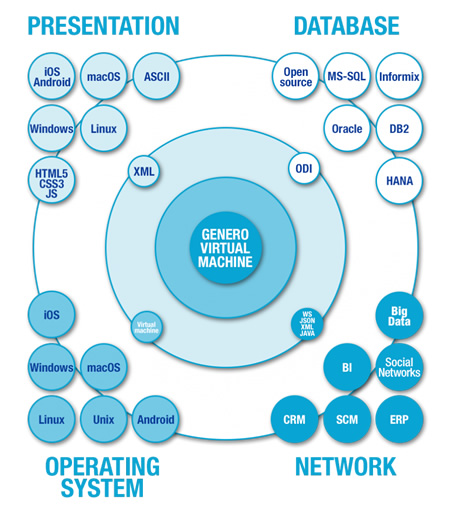 Here today, gone tomorrow
We live in an ever-changing world. Who would have predicted the rise of the Internet in the mid-nineties? Who would have thought that 80% of the world's application development projects would be shifting towards mobile devices over the next two years? And yet this is the world we are living in. Core information systems written decades ago must constantly adapt to such changes – they are too critical, too embedded and simply too big to rewrite in time to stay in step with market trends. The applications you develop today need to stand the test of time and be relevant ten maybe twenty years from now. With Genero they can.

Like a chameleon, Genero adapts to its environment
Genero comprises a Dynamic Virtual Machine (DVM) that runs BDL as portable byte code on different operating systems. Compile your application once and run it everywhere. Reduce test cycles too: executables made for one operating system run on another without recompilation. That means they only need testing once, reducing effort and shortening the development lifecycle. Genero supports: IBM® AIX®, HP-UX®, Solaris®, Linux®, MS® Windows® and others without the need to recompile. Applications can be quickly adapted to run on iOS® and Android® Smartphones and tablets, both in 'connected' and 'disconnected' mode. As a result, your applications are protected from network outages and mobile users can continue to work autonomously.

The AUI enables applications to reach different constituents throughout the network simultaneously. The user interface adapts at runtime to the user agent in use: MS Windows, Linux, OSX®, ASCII, web browsers, Smartphones and tablets running iOS, and Android. This cross platform approach results in forms that are designed once and work anywhere. Forms and dialogs are modular meaning they can be used and re-used throughout the application, so reducing their number and simplifying their maintenance.
The Open Database Interface (ODI) provides seamless SQL compliant access to IBM® DB2®, IBM Informix®, Microsoft® SQL Server, MySQL®, Oracle®, PostgreSQL®, SQLite and Sybase®.

Genero Mobile – enterprise applications, all the way to the network's edge
Genero Mobile is an embedded runtime system with all the sophistication of BDL. Combined with SQLite for iOS® and Android® devices, there is no development platform more powerful nor simple to use. Through Genero Studio, mobile applications can be rapidly developed for standalone 'disconnected' mode or server-based 'connected' mode. Applications take full advantage of these tactile and gesture-based operating systems.
As a Genero Certified Partner, we know how you can maximize your investment and create data-intensive business solutions that adapt to your needs. Feel free to contact us so that we can contribute to the success of your project.
What we can do for you
We possess the resources and tools to help you make a good decision.
These is how we can help you to succeed on your next project with Four Js Genero.
Migration
Are you moving to Genero? We will help you to migrate your existing Informix ERP to take full advantage of Four Js Genero.
UX/ UI Design
We will help you to design your Application not only to look good but also to be enjoyable and easy to use.
Development
Web, Mobile, Desktop? You decide, we will help you to Develop your Application in any platform you choose, even on the Cloud.
Release your potential with our Software Factory services.
Now, with our engineers, your ideas will take flight.
Stay up to date, join our newsletter