Details

Written by

Ariel Sztern

Hits: 2888
In the next few years, we are expected to reach even higher achievements digitally with some of the most amazing technologies ever seen. One of our favorite new technologies is Augmented Reality or AR.
What is Augmented Reality?
Augmented Reality is the integration of digital information with live video and the user's environment in real time, commonly through a computer, a camera, a processor and a screen. AR recognizes a visual picture or film, combines new information, and displays the virtual result. All of this in real time producing extraordinary immersive experiences.
This technology is really engaging and has some amazing advantages: the biggest one is the bridge that is gapped between the digital and real worlds.
Augmented Reality is here and is already transforming the way people see and learn from their environment. In fact, AR is revolutionizing companies' business models. UI and UX is of utmost importance to any brand, and if you have seen what they are doing today, you would see touches of augmented reality emerging in each of them.
Real applications
With AR technology, you can use content in the desired manner and this becomes your source of opportunities. No matter what your industry or interest is, in one way or another AR can have a huge impact for you.
At this point it is important to notice something. We must admit that sometimes AR is used in a frivolous or unnecessary way -however you can say that about any other technology- but when used properly and with the right creative/technical direction Augmented Reality can be very useful.
In short, AR isn't just about marketing. This technology can be used anywhere you need providing a fast and intuitive access to information or visualization; it can help you choose the decor of your home or visualize inside your next car before you buy it. At this moment, engineers and even surgeons are using 3D Augmented Reality as teaching and training tools.
It is worth to mention that almost any object can be use as an AR platform or support. We can use from a poster to a small item, and the experience triggered from it can be anything from taking you to a website to overlaying a 3-D graphic. With AR, the imagination is the limit. We only need to detect from the large range of objects including consumer products, books, artwork, monuments, etc. by using our smartphone camera.
As if that were not enough, since user-friendly wearable gear is now an uprising trend, we expect to see more people wearing devices capable of capturing images and displaying information around you. More and more, this trend will open new doors to create revolutionary things. The key to all this is the software. The AR programs allow the developer to tie animation or contextual digital information in the computer program to an augmented reality in the real world.
Yes. Times are changing… Curious about what AR can do for your business? Contact us or visit www.emotionar.com for more ideas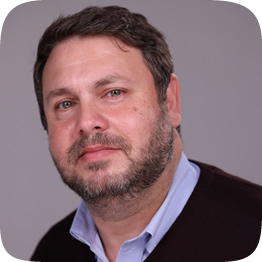 About Ariel Sztern
Ariel is a Software Engineer with more than 20 years of experience in Software Development with experience in managing projects in more than 16 countries
Nowadays Ariel is responsible for managing the operation in USA as President of TISA Software LLC.
Beyond his technical knowledge and passion for the technology Ariel enjoys watching the NBA and playing Ping-Pong, he also like sci-fi movies and was recognized as one of the 40 under 40 by the Houston Business Journal in 2014.