Details

Written by

Brian Lamilla

Hits: 1427
It was believed that voice search was not going to be chosen by users and therefore was not meant to last. However, data shows something different: the amount of voice searches is increasing and this tendency is expected to have a direct impact in SEO.
In 2015 there was some speculation around voice search from Smartphones and how it could impact SEO. Nevertheless, users did not seem to be entirely comfortable around Apple's Siri or Microsoft's Cortana as it was confirmed by a user research made by Intelligent Voice in 2013.
What is happening with users' search behavior?
SEO has been always based on text, even though we can see every year that Google search is becoming more complex and the type of content it used to privilege is starting to change Google's goal is well defined: they seek to retrieve search results that deliver the content and form the user is looking for. This way they manage to add value and improve users' experience and satisfaction.
First thing was the images
It has been proven that users are more receptive to attractive images. Google started to give images more relevance and included them in the main page of Google search results. Although not all users take advantage of Google Images it is undeniable that this tool has a lot of potential for SEO. Altogether, images are a great SEO strategy to position your content in the main page of Google search results.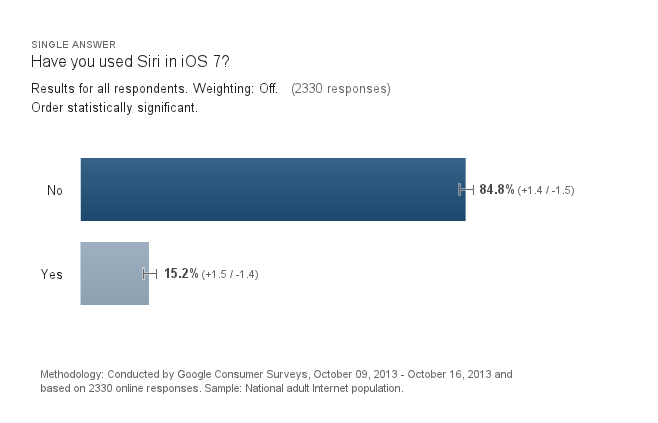 Then came improvements in text analysis
Hummingbird was one of the most important updates made by Google. It introduced semantic context and revolutionized the content marketing field. It is no longer important to match the exact word as many times as possible but rather being able to create a uniform text centered in a specific subject that contains a meaningful wording.
Later on came videos
We've known for some time now that users' preference to watch videos rather than reading is increasing over time. Videos are able to transmit much more information than text or even images. A video can communicate emotions, context and different situations. It is safe to say that Google is starting to acknowledge this preference.
Voice search is coming
According to research published by Mindmeld in December 2015 60% of the people surveyed started to use voice search in the last 12 months. Moreover, if we take a look at Google Trends and how used keywords have evolved we can see that they are highly related to voice search.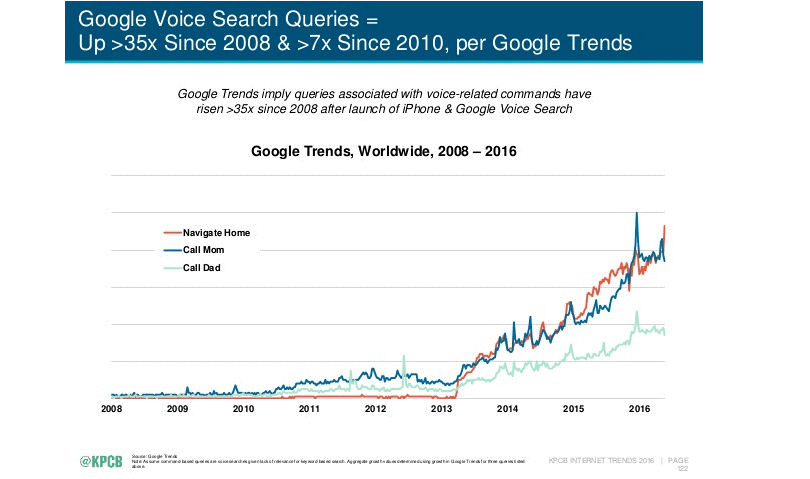 Within the next few months SEO is going to be affected by this increasing tendency and Google's desire to improve user experience. It is vital to adapt content to a colloquial language similar to that used by people in everyday life.
This kind of interactions and searches are based in questions, that is why the user wants direct and fast answers. Evidently, this is an important change in user behavior. In order to face this new context, we are required to adapt the content to this new type of search:
- Content should aim to provide answers to specific searches. This is about providing the user with direct responses rather than a list of web sites centered around a keyword.
- One of the characteristics of voice search is that more words are being used in the search. Therefore, context and semantic affluence are becoming more important.
- We should maximize semantic analysis. It is important to use words that are directly related to a subject and that are able to provide an answer to the question and it is also as important that Google can understand what we are talking about.
- Generate specific content. Less and less we use just "watch", it is necessary to generate segmented content such as "Men's watch with leather strap and Roman numbers".
- Include questions and provide the answers within the content. This way Google will be able to understand the content as an answer to that specific question.
In conclusion, voice search entails a challenge but also a great opportunity for SEOs to understand this change and be able to appear within the main results.
Does your positioning strategy include voice search?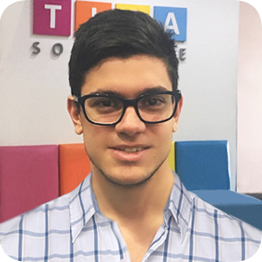 About Brian Lamilla
Brian is a Web Developer and SEO / SEM / CMS specialist with more than 5 years of experience positioning Websites for local and global Customers. He is also a QA Specialist with more than 5 years of experience testing Web and Desktop applications for some of the most important Fortune 500 companies.
Nowadays Brian specializes in leading the SEO/ SEM department of TISA, continuously researching about new positioning algorithms to obtain a better performance and rating in a lower time and also works at the QA department of TISA, looking for implementing and working with the latest testing technologies and applications to be used in future projects so quality can be reached in a higher level.
Beyond his technical knowledge and passion for the technology, Brian enjoys playing video games, going to the Gym and watching and playing soccer and tennis.