Details

Written by

Marcelo Nigro

Hits: 4953
If since some years ago we all recognize user experience (UX) and user interface (UI) as important parts of web development and app development, these days, nobody can deny, they're indispensable. Today, more than ever before, the experience a user has with a site or application helps form their opinion of the organization, business or brand with whom he is interacting.
As you know, these two terms (UI and UX) are frequently related. Their ties are impossible to break as UI and UX are interdependent (as long as we refer to a really good interface which brings enjoyment to the user).
For starters I want to recall the definition of these terms. Here we go!
We can say that UXD is the process of enhancing customer satisfaction and fidelity by improving the usability and enjoyment provided during the interaction between the user and the product, while UID is a process of visually guiding the user through the product's interface via interactive elements and across different platforms.
Then, in other words, the UI design helps enhance the user experience by making the visual assets and the strength of the brand optimally transferable to the interface. The more intuitive the interface will be, the better the product will be able to garner the improved user experience.
Anyway, there are several common myths around UX and UI, and as I told you, we are here to bust some of them right now.
First things first: UX & UI are definitely not the same. This leads us to clarify something else:
UX Designer and UI Designer are two different roles. One can't deny that UX and UI have several points of commonalities, however, while observing the two in detail, it can be said that the UI designer is very much related to the graphic design whereas the UX designer is connected to logical or analytic area. Therefore, by large the visions of either field are different from the other.
UX is not just common sense as a lot of people believe. In fact, UX is based on years and years of knowledge, researches and study of best practices. User experience design is about the way people interact with his environment and this is not something that should be taken lightly.
Lots of people think that anyone can do UX. Wrong. A really successful product team enjoys a balanced creative tension between stakeholders (visual designers, developers, engineers), each one engaged to care about a certain aspect. In short, the UX guy (or woman) works in the middle of all of them, balancing all of these different perspectives.
Finally, let me kick off one of my favorite myths: the high costs. UX it does not have to be too expensive. Picking and choosing where UX expertise can best support your process, sometimes we can maximize benefit while minimizing cost. Of course, it's best when there is UX involvement in all the process, but it is also possible to add value at specific moments.
Concluding, UX and UI are the two aspects that literally define the success of your product. In the end it's all about success. If anyone provides better service (which partly means good UX and good UI) to their customers than the competition, that company will much likely be more successful.
So, before beginning to develop a website or an app, collect as much information as possible about the targeted customer and never forget that the real benefit of user experience knowledge comes from using design to generate empathy.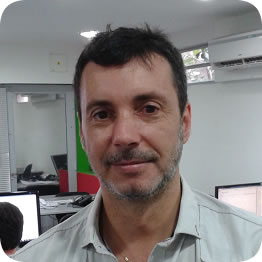 About Marcelo Nigro
Marcelo is a Software Engineer with more than 20 years of experience developing Web and Desktop applications for some of the most important Fortune 500 companies
Nowadays Marcelo specializes in leading the R&D department of TISA, looking for implementing the latest technologies and frameworks to be used in future projects.
Beyond his technical knowledge and passion for the technology Marcelo enjoys playing Ping-Pong and is half marathon runner, he also like listening musing from the 90's.